Personal consumption expenditures moved up only 0.1% in April, after a similar increase in March. The entire gain came from purchases of services (+0.1%), with outlays on durable and non-durables holding steady in April. Based on April data and conservative projections for May and June, consumer spending is most likely to post a 2.0% annualized increase in the second quarter of 2011 after a 2.2% gain in the first quarter. In addition to consumer spending, the message from incoming economic reports is that the pace of economic growth is slowing.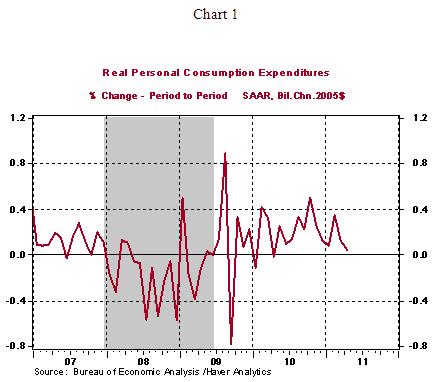 The personal saving rate as a percentage of disposable income held steady at 4.9% in April, after maintaining readings above 5.0% in the first two months of 2011 and posting an average of 5.8% in 2010.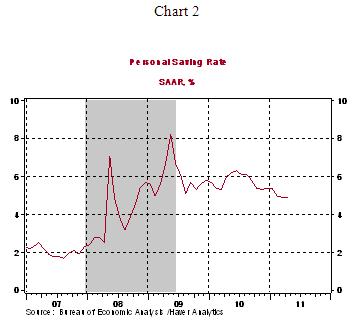 Personal income rose 0.4% in April after similar gains in March. The personal consumption expenditure price index rose 0.3%, while the core personal consumption expenditure price index, which excludes food and energy, increased 0.2%. From a year ago, these indexes have moved up 2.2% and 1.0% respectively. Although the overall price measure is close to the Fed's threshold of tolerance (around 2.0% is the preferred inflation reading). The Fed views this as reflecting transitory gains of energy and food prices because a complete pass through of higher energy prices to that of core items has not occurred.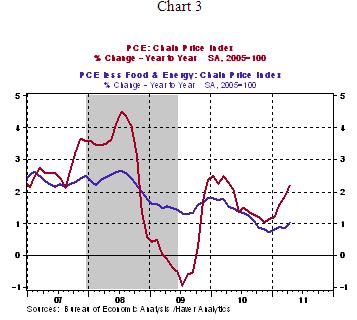 April Pending Home Sales Index Suggests Weakness of Home Sales in the Near Term
The Pending Home Sales Index (PHSI) of April fell 11.6% in April after a 3.5% gain in the prior month. The PHSI tracks sales of existing homes one-to-two months down the road. The latest reading bodes poorly for sales of existing homes in May and June.